Schedule: November 25, 2012 to December 01, 2012
Venue: Arya Colony, Barbil, Keonjhar.
Curator: Mr. Surya Narayan Singh
Coordinator: Mr. Jagannath Panda & UTSHA team
Participating Artists & Art Forms: Aishwaryan K (Painting & Printmaking), Arbind Kumar Singh (Sculptor), P. Bujinga Rao (Sculptor), Harapasad Tripathy (Painting), Josh PS (Painting), Nityananda Ojha (Sculptor), Satyabhama Majhi (Public Art), Sujit Mallik (Fine Art), Abhimanyu Sahu and Ganesh Sahu (Terracotta), Saraswati Dash (Paper Mache), Jayant Kumar Behera (Paper Mache), Ashok Behera and Duryodhan Behera (Bamboo Craft).
Cultural Program: Puppet Dance by Hon Padmashree Maguni Kuanr, Tiger Dance by Bhagban Sahu, Odishi Dance by Deepak Kar, Jhumar & Sambalpuri folk dance by children and ladies from Arya Colony.
Sweta Purushottam Bhattad located her performance in under mines where the ores & raw materials are taken off to create the grandeur spectacle of contemporary society.
National award winning Maguni Kunwar & Padmashree Bhagban Sahu performed Puppet Dance & Bagha Nata with touch of traditional practices of the State of Odisha. And the students of Arya Colony with help of Guru Deepak Kar performed traditional & classical dances like Jhumar, Tandav Nritya and Odishi in the Cultural evening.
Sujit Malik is a multi-media artist and works between painting, installation, film & performance to democratic of the given boundaries of prevailing definitions. This is an interactive sculpture in iron as mock binocular/telescopes and positioned in the field to not to show something illusionary.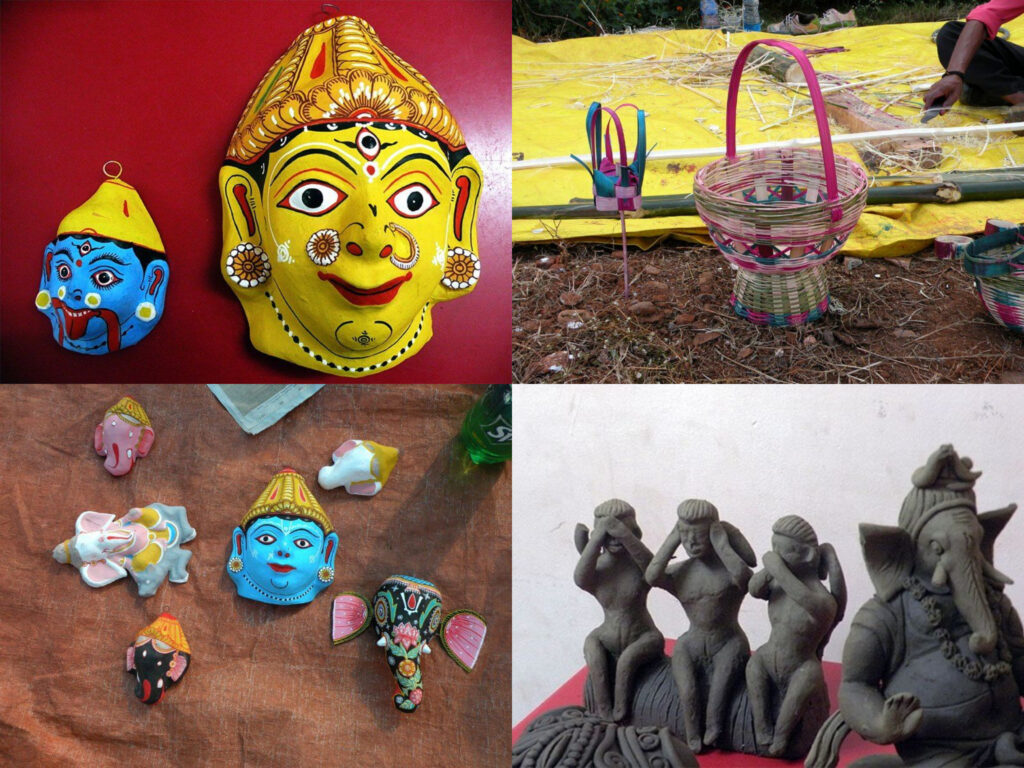 Traditional household sculptures, statues & decorative works in material like Terracotta, Bamboo & Paper Mache. The team of artists including Ashok Behera, Duryodhan Behera, Abhimanyu Sahu, Saraswati Sahu & Jayant Behera.