Theme: "community based experimental art workshop"
Schedule: November 30, 2014 to December 07, 2014
Venue: Arya Colony, Barbil, Keonjhar.
Curator: Mr. Rahul Bhattacharya
Coordinator: Mr. Ramakanta Samataray & UTSHA team.
Participating Artists & Art Forms: International famed artist Jagannath Panda (Painting & Sculptor), Veer Munsi (Painting), Shilpa Joglekar (Visuals Art), Anuradha Pathak (Installation), Kanta Kishore Moharana (Sculpture), Samudara Kajal Saikia (Theatre & Film Maker), Mandakini Galore (Painting), Anjan Kumar Sahu (Freelance), Dipti Biswal (Painting), Susant Kumar Panda (Painting) and Rajat Kumar Dhal (Painting & Street Art).
The artisans (craftsman) from different parts of Odisha exhibited their work during BAP.
Patta Painting (Silk & Palm Leaf) –by Narahari Bhoi & Dwijabar Das
Dhokra Art (by using Brass) – by Sansari Godatia and Golap Godatia
Cultural Program: Chhaw by Mayurbhanj Chhaw Nrutya Sangh, Godipua dance by Guru Lingaraj Barik Nrutya Sangh, PALA by Maa Tarini Pala Committee, Sambalpuri and Odishi folk dance by Rudrakshya dance Academy. Various dance forms and songs by children and ladies from Arya Colony.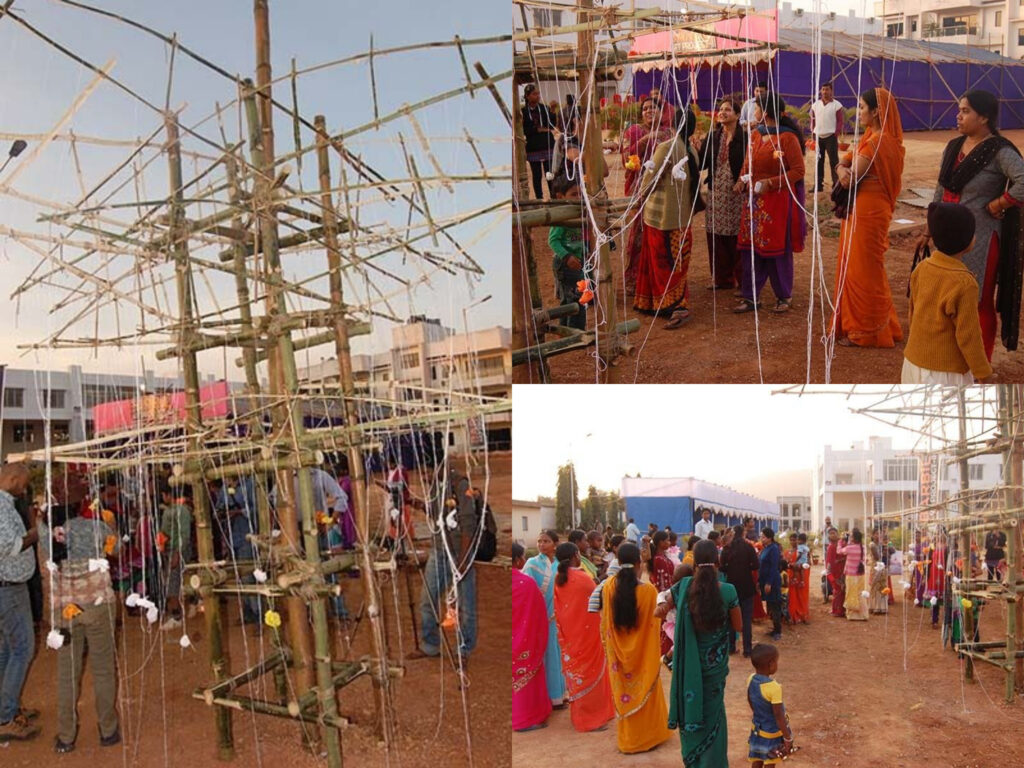 Shilpa Joglekar formed a WISH TREE, an artist to bring down the dreams of the people on a tree. A thought to bring down the dreams of the people on a place where people can help each other to fulfill dreams.
Lingaraj Mohanta (Pala Artist), Lingaraj Barik (Goti Pua Dance Artist), Mayurbhanj Chau Nrutya Sangha performed in the cultural evening to create an artistic environment in the project. The colony children also performed Odishi & Sambalpuri during the evening cultural sessions.
Dipti Biswas work with typical balloon shapes using coir material depicted her imagination to fly in air like balloon.
Anuradha Pathak displayed her art work by hanging the mud pots on the walls. Her art work represents a thought & described a relation between Arya Group presence and socio economic factor of local tribal community, with still some aspects remained unchanged which gave message to our next generations.
Sabita Behera & Hrudananda Behera Bamboo designed the crafts for most commonly used utilities in daily life.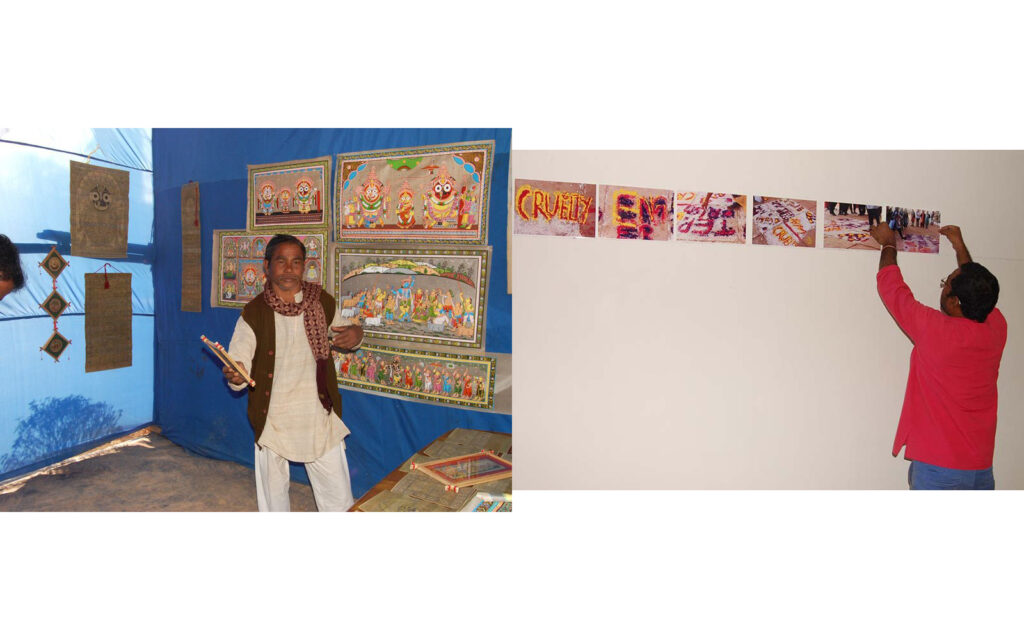 Rajat Dhal, Sushanta Panda, Narahari Bhoi, Dwijabar Das with their painting displayed their art work along with Patta Chitra Work on Palm Leaf with the help of Bamboo Stick. This traditional art work represents Odisha's deep culture & its mythological narratives & folktales.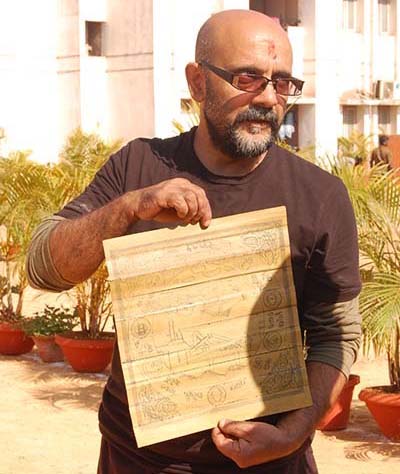 Veer Munshi displayed the dust suppression method by demonstrating the water droplets falling on the on dust particle. He is one of few artists in India to transform his experience in Kashmir into the language of painting.